Learn, practice, analyse and discover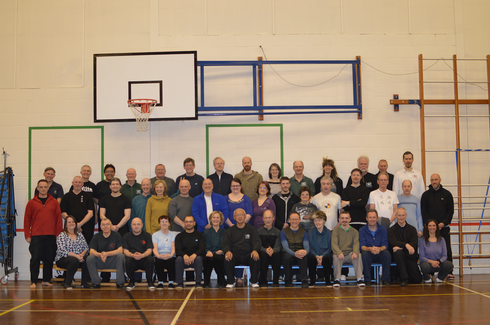 This year's camp was a resounding success and thoroughly enjoyed by all.
More than 40 Taiji students travelled from as far afield as Canada, New Zealand, Germany, Holland and Lithuania, as well as all corners of the UK: Belfast, Isle of Skye, Glasgow, Bristol, Frome, London, St Albans, Cambridge and, of course, Norwich.
Following from the 2014 camp, the training emphasised developing awareness of internal movement in the Short Form, and then translating into the partner training.  Wee Kee Jin emphasised that having learned something new, it is first necessary to practice, and then to analyse your practice and not just follow blindly.  As a result of analysing your practice, you will discover new things that would not otherwise present themselves.
Arrival
Arrival at the camp is a gradual affair, with people arriving from around noon until the late afternoon.  Some arrive by car, whereas those travelling from afar are collected from the airport or one of the nearby rail and bus stations.
On arrival students were greeted by Sally and Wendy, who take registration details, showed people to their accommodation and explained any domestic essentials.
The first class begins at 7:30pm, after dinner, and Jin gives an introduction to the week.
Early morning training
Morning practice begins at 6am, when the hall is opened for solo training by "the hardy few" until 7am when the whole group assembles for an hour of partner training.

The hour is spent doing "free pushing", with both partners in one of three fixed positions, changing partners every 10 minutes, until 8am ... at which point there is a stampede to get to breakfast in the dining hall!
Mid-morning class
No sooner has breakfast begin to settle in our stomachs  (porridge, full English, toast or croissants), we are training again at 9:30am.  The whole group trains together for a while, and then Kee Jin's UK instructors guide the newer students in the first section of the Form, whilst he leads the others through the next sections. 

Then the whole group trains a short period of basic partner training in the Seven Point Push, before the morning class concludes at 11:30.  There is then a 30 minute break for free practice, or rest, before it's noon and time to eat again.
Afternoon activities
After lunch people were free to go sight-seeing in Wymondham or Norwich, go for walks locally or just rest and drink tea.  On 3 afternoons the school swimming pool was open, and on the other days there was an optional extra class in Fujian White Crane, for those who were interested in trying it out for the first time.
Afternoon class

Training begins again at 4pm with a round of the first section of the Short Form, followed by fixed partner exercises such as Rollback and Press, Open-Close, wardoff-rollback-press-push and others.
Before you know it, 6pm arrives and it's time to eat again, so we eagerly eat our fill and then rest before the evening class. 
Evening training
After a round of the first section of the Form, the evening class is where we practice the neutralising and issuing of relaxed force with a partner.  Building on the fixed exercises and Form practice earlier in the day, the neutralising and issuing are trained a specific set of exercises.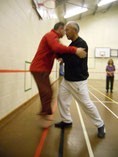 The highlight of the session was a semi-free exercise, with one partner standing close to the wall providing a varied force and the other learning to 'pick up the signal' and neutralise.  The options then are to either pluck the person out to the side/rear, or move in and issue; with the wall preventing them from flying too far.
Chinwag and ch'ai

There are two common rooms situated centrally to the accommodation areas, available 24x7 with seating tea/coffee making facilities, and a plentiful supply of biscuits!  We frequently congregate here in between classes to drink tea and talk about training, especially after the evening class.  People last out for a while, until eyelids become heavy and sleep beckons.
Catering

The food at Hethersett Old Hall School is great, catering for vegetarians, vegans and omnivores alike, and there really is no danger of going hungry!

Michael Reeves, the Facilities Manager at the school, works hard to ensure we have a comfortable stay, and he also doubles as our Chef for the week, doing a fantastic job with his team in feeding us.
Support
The camp is very a much a 'family' atmosphere.  The organising team will help with any domestic queries or problems you may have, and several of Kee Jin's UK instructors are on-hand to answer questions about your practice or help you through aspects you are struggling with.
Retreat
The camp is very much a "retreat" from the demands of work and daily life, but not completely cut off from the outside world.  Mobile reception is generally OK and the school has a good guest WiFi system so it is easy to keep in touch with family and friends.
---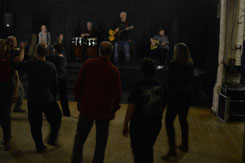 Party
The annual camp concludes with a party, and this year we were lucky to be entertained by a rousing performance from Hugh Lynch and his band.   Many students found the energy to dance for almost 2 hours, showing no signs of fatigue in their legs even after a week of rigorous training!
Hugh is also a White Crane Student, and Nick Hurn (drummer) studies both White Crane and Taiji.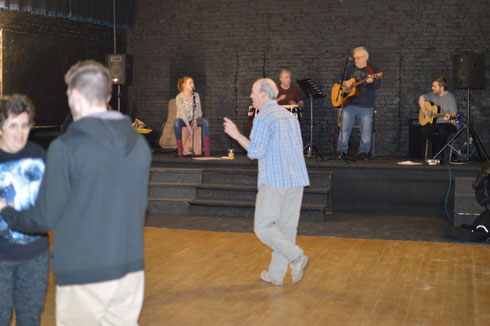 ---
Farewell
All too soon, it's Sunday the 5th already, and sadly it's the last morning of training.  After lunch, people begin to depart and the Team ferries students to the rail and bus stations, or the local airport as needed.  so that's it ... all over until next year !
The Organising Team
If you have any queries, comments or suggestions about the camp, please contact one of the team:  Pete Dobson, Sally Ward, Wendy Rogers, Stuart Lee and Paul Fretter.
---